We are RVers just like you
and we know how you feel about your holding tanks!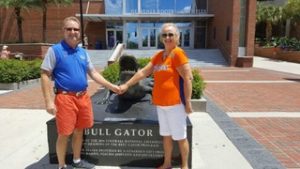 We're Doug and Darlene Watson, proud owners of D and D RV Tank Cleaning Cleaning Solutions. We're avid RVers and when we retired, we knew we wanted to start a business that we could enjoy while we traveled, and one that helped out other RVers.
We did some research and found All Pro Water Flow. After speaking with its founder, Preston Hall, we realized that his solution to tank problems was just the right opportunity for us. We joined on as an authorized dealer and began servicing RVers wherever we traveled.
Preston took the time to tell us how waste can build up over time, affecting the sensors, and causing other problems. He explained how important it is to keep the tanks filled with liquid, how often to flush them, and even how chemicals can cause tanks to gum up and become clogged. One tank cleaning procedure and we were sold!
Now, we've become an authorized All Pro Water Flow dealer — and hope to educate other RVers on proper holding tank maintenance and care. We can't emphasize that last point enough — even though you may not think you have problems now, it's important to have your holding tanks professionally flushed and cleaned at least once a year.
Reach out to us and we'll explain more and give you a FREE estimate on cleaning your black and gray holding tanks as well as your water heater tank. Our service is the only way you will get your RV's waste tank sensors working properly again. Thanks and see you out there!
Connect with us
we'd love to hear from you

  P.O. Box 28, Graham, FL 32042

 352.575.3371

Send us an email
Why choose D&D RV Tank Cleaning Solutions
It's simple -- our service:
Fixes and corrects your RV's tank sensors almost every time
Features innovative, hydro-jetting technology
Is a 100% mobile service. We come to you at your site.
Is environmentally safe and makes no mess at your site
Is chemical-free and all-natural
Make an inquiry
we'll get right back to you